Amsterdam, 29.09.2021: Businesses pilot breakthrough innovation in temperature-controlled transport
Four companies have collaborated for a nine-month pilot in the Netherlands, which will see diesel refrigeration systems in semi-trailers replaced by zero-emission battery-electric prototypes: The partnership is between equipment service provider TIP Trailer Services, global consumer goods company Unilever, Greentech experts maxwell+spark, and transport company Daily Logistics Group (DLG).
This new innovation keeps freight chilled at temperatures down to -25°C and will be tested to run entirely on renewable electricity. If successful, it could save 20-25 tons of CO2 per reefer trailer annually, with air quality benefits for each vehicle equivalent to taking 70 passenger cars off the road.
Once the full pilot has completed, the technology could be rolled out further, providing a lower impact logistics solution.
The partners
TIP
TIP Trailer Services has more than 50 years of expertise in managing and maintaining reefer trailers which proved to be crucial in this collaboration. This new type of reefer should be easy to operate, maintenance friendly, economically viable and independent from the tractor unit. Innovations and
Sustainability are key pillars for strategic growth and TIP strongly believes that the cooperation with Maxwell & Spark will electrify the reefer industry with a scalable innovation. Rogier Laan, Vice President at TIP, said, "I am very proud of the end result; besides time and costs my team added a lot of technical expertise. TIP has seen its customers increasingly look to adopt cleaner and more efficient trailer solutions, and we want to be the best industry partner. We support innovative solutions that drive the industry to be more sustainable. So, we're keeping a close eye on technical developments within our industry and regularly partner up with other partners, like maxwell+spark, to bring sustainable solutions to the market." 
As the starting point in this pilot, South African green-tech pioneer maxwell+spark has designed and built bespoke lithium-ion battery based systems to power a Thermo King Advancer refrigeration system in four trailers. Clinton Bemont, CEO of maxwell+spark said, "This exciting collaboration builds on the work we've been doing over the last few years to replace fossil fuels in industrial and commercial environments. In 2016, we began investigating the viability of lithium-ion batteries with high energy density for transport refrigeration power. Our experience since then in South Africa has been hugely positive, and this cutting-edge technology has real potential for deployment at scale."
DLG
The Daily Logistics Group runs Unilever's cold chain distribution network in Benelux and for this pilot, chose and trained dedicated drivers for the new trailers. Joost Visbeen, CEO at DLG, said, "DLG is convinced that transparency helps us to find safer and cleaner logistics solutions. By working with partners, we can offer sustainable transport options that reduce CO2, while ensuring continued customer and job satisfaction."
Unilever
Owning brands including Magnum, Cornetto, Dove and Domestos, Unilever has set targets to halve the greenhouse gas (GHG) emissions footprint of its products by 2030 and achieve net zero in its value chain by 2039. The company estimates that it will need to reduce GHG emissions from its logistics by 40-50% by 2030, and is committed to working with innovation partners to find new solutions and bring them to scale. Michelle Grose, Head of Logistics and Fulfilment at Unilever, explained, "With logistics and distribution accounting for around 15% of our emissions, we are moving our cold chain to cleaner sources of energy. We are partnering with innovators to pioneer new technology and find new solutions. This journey of co-creation will provide us with valuable learnings and insights to help us lower emissions from our vehicle fleet."

Technical specifications
The four trailers in this pilot will have a modified Thermo King reefer engine (Advancer A400) in combination with a specialized battery system from Maxwell and Spark (70 kilowatt-hours (kWh). The purpose of this test is to run the reefer completely on electricity during working hours, charging the battery during inactive moments on location with a normal three-phase power connection. The reefers are being used in the most demanding applications, providing service for frozen food transport.
This innovative system is being tested using entirely renewable electricity and will only use diesel as a contingency measure.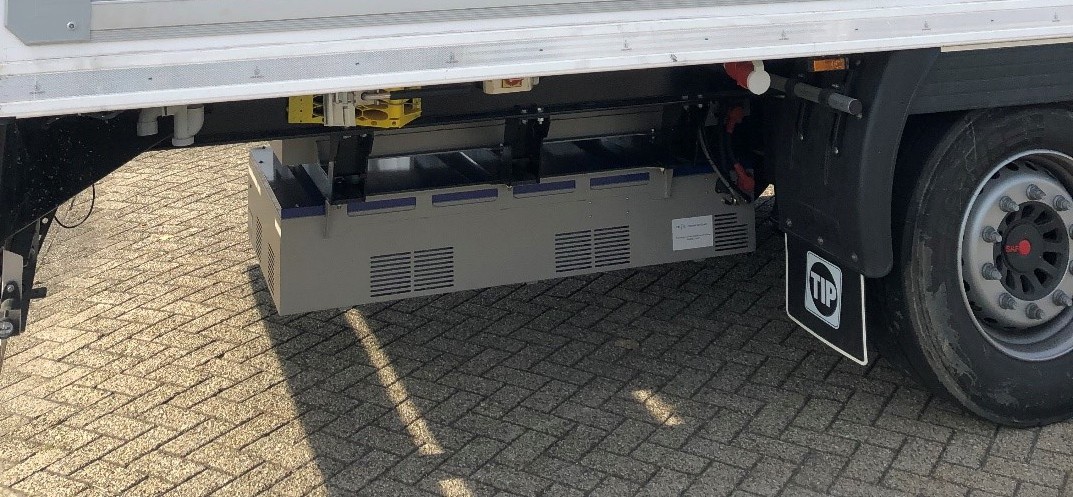 Contact
For more information, interviews, and high-resolution photographs contact Henrike Wilkens, TIP, [email protected] or Rogier Laan, TIP, [email protected]

About the partners
TIP Trailer Services: Headquartered in Amsterdam, the Netherlands, TIP is one of Europe and Canada's leading equipment service providers, specialising in trailer leasing, rental, maintenance and repair, as well as other value-added services and provides these to transportation and logistics customers across Europe and Canada. TIP services customers from more than 120 locations spread over 18 countries in Europe and Canada. For more information, please visit: https://www.tipeurope.com
maxwell+spark: design and manufacture lithium-ion systems that empower their industrial users to transition away from inefficient, dirty energy, to lower cost, cleaner, intelligent alternatives. Headed by Dr Clinton Bemont, the M+S team has been creating innovative lithium-ion solutions since 2012. maxwell+spark stays ahead of the curve, with an engineering degree for every two employees, broad in-house expertise and advanced in-house R&D facilities. maxwell+spark has offices in The Netherlands and South Africa, and agents in Australia and the Americas.
DLG: Daily Logistics Group is a leading transport company specializing in multimodal conditioned transport across Europe. As a logistics partner, we work day and night to make all transport operations run smoothly. Whatever happens: We deliver. Together, we deliver solutions that produce the best result for your customers, for the quality of your cargo and for the success of your organization. Since we're a forward-looking organization, sustainability plays an important role here. DLG provides smart routes and modes of transport that cause the least possible harm to the environment, in part by analyzing and minimizing DLG's trucks' fuel consumption. With almost 40 million miles behind us, DLG always thinks ahead to a cleaner world of transport.
Unilever: Unilever is one of the world's leading suppliers of Beauty & Personal Care, Home Care, and Foods & Refreshment products, with sales in over 190 countries and products used by 2.5 billion people every day. We have 149,000 employees and generated sales of €50.7 billion in 2020. Over half of our footprint is in developing and emerging markets. We have around 400 brands found in homes all over the world – including iconic global brands like Dove, Lifebuoy, Knorr, Magnum, OMO and Surf; and other brands such as Love Beauty & Planet, Hourglass, Seventh Generation and The Vegetarian Butcher.
Our vision is to be the global leader in sustainable business and to demonstrate how our purpose-led, future-fit business model drives superior performance. We have a long tradition of being a progressive, responsible business. It goes back to the days of our founder William Lever, who launched the world's first purposeful brand, Sunlight Soap, more than 100 years ago, and it's at the heart of how we run our company today.
The Unilever Compass, our sustainable business strategy, is set out to help us deliver superior performance and drive sustainable and responsible growth, while:
– improving the health of the planet;
– improving people's health, confidence and wellbeing; and
– contributing to a fairer and more socially inclusive world.
While there is still more to do, we are proud to have been recognised in 2020 as a sector leader in the Dow Jones Sustainability Index and – for the tenth-consecutive year – as the top ranked company in the 2020 GlobeScan/SustainAbility Sustainability Leaders survey.
For more information about Unilever and our brands, please visit www.unilever.com.